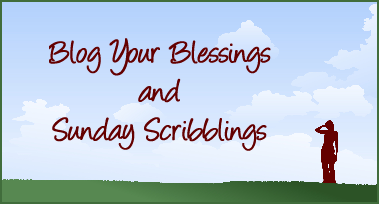 The prompt for this week's
Sunday Scribblings
is "
simple
."Consider Matthew 5:21-24:
You're familiar with the command to the ancients, "Do not murder." I'm telling you that anyone who is so much as angry with a brother or sister is guilty of murder. Carelessly call a brother "idiot!" and you just might find yourself hauled into court. Thoughtlessly yell "stupid!" at a sister and you are on the brink of hellfire. The simple moral fact is that words kill.This is how I want you to conduct yourself in these matters. If you enter your place of worship and, about to make an offering, you suddenly remember a grudge a friend has against you, abandon your offering, leave immediately, go to this friend and make things right. Then and only then, come back and work things out with God.
Today is a day for closure. And that's where the blessing part of this two-for-the-price-of-one article becomes relevant.
Among the definitions of "closure" I found in the dictionary is "bringing to an end; conclusion." With regard to psychology, the definition is "a sense of psychological certainty or completeness; a need for closure."
I believe that there is also, at certain times in our life, "a need for closure" from a spiritual vantage point. Today is one of those days for both me and this blog.
If you have been reading along from this blog's genesis, let me first say "thank you" for participating. This blog began on January 13, 2007, as a place and means to facilitate my recovery "from lifelong Protestantism, volunteerism, and church membership as a generalized principle." I started out calling it "Recovering Lutheran: Here I Stand" to express where I was in my spiritual journey at that time, as well as jab a bit at Martin Luther and the church he unintentionally wrought, while also empathizing with him and his calling to speak out. He certainly suffered because of his convictions and, at the time, I was still feeling hurt from being spurned on account of my integrity and honesty.
My original tag line was "insights, observations and ramblings from a 'negative and disruptive spirit.'" You see, my former pastor ((I have referred to him here as "Noxious Pastor" or "NP".)), after lying to and about, and manipulating me, told me in his final e-mail that he was "at an end of patience with the negative and disruptive spirit you bring."
So I took on his misbegotten words like a mantle — in protest and defiance because, if you are a loyal reader, you have seen that I am anything but a "negative and disruptive spirit." Having studied psychology, I immediately recognized in his words the principle called "projection" which is "the tendency to ascribe to another person feelings, thoughts, or attitudes present in oneself." In other words, when NP wrote those vicious words to me, he was really writing about himself.
I am, on the contrary, an upbeat, sometimes still naive ((My naivete is what got me into trouble in the first place, i.e., I believed that because NP was a pastor, he was incapable of the conduct in which he engaged.)), but always "Hopeful Spirit" which is why, after a few weeks, I got bored with and tired of the old tagline.
Carrying someone else's baggage never has been my style. When I happened upon the quote that is now the tagline, I knew it was time to move on.
On February 2, 2007, I wrote what I still believe is one of my best posts ever: Sticks and Stones. In fact, I did something I had never done before: I submitted it to a blog carnival. And you know what? It was rejected. But that was again the work of the Holy Spirit, telling me that by submitting it, I was attempting to play in the wrong sandbox, a place I had already left and had no business trying to go back to.
I find it endlessly ironic, however, that the host of that week's carnival, in rejecting my entry, wrote these words to me:
I pray that you find a congregation where you can be fed and find comfort in God's Word and in His sacraments. To a Lutheran, that is where we find God's grace.
I still scratch my head in amusement and wonder when I read those words which served to reinforce why I can no longer be a Lutheran. Or get involved with any other organized religion. I have not and will not spend waste time looking for "a congregation where you can be fed and find comfort in God's Word and in His sacraments." I don't need to be in a so-called "sanctuary" to find comfort in Scripture or enjoy the sacraments. I spent years and years and years in rooms called "sanctuaries" and came out time after time annoyed that I had just wasted an hour or more of my life because I did not feel "fed," nourished or blessed by the rituals I witnessed there. If others find such experiences valuable, they should participate. I find spiritual nourishment and comfort in a variety of places and times, none of which have any connection to the patriarchal, misogynistic church. NP's evil words and deeds were a blessing because they finally forced me to confront that reality in a tangible way.
"To a Lutheran, that is where we find God's grace." She obviously missed the "recovering" part of this blog's then-title.
Moreover, that's neither what I was taught during my previous lifetime of Lutheranism nor is it consistent with Scripture. The grace bestowed by the Divine is not doled out solely to those who frequent the institutional church nor exclusively within organized religion. The Holy Spirit reminded me, by having my post rejected, that I should not affiliate myself with any group or individual who espouses such a narrow, limited, and misguided viewpoint. That was indeed a blessing.
In "Sticks and Stones," I wrote about NP's words:
"[I]f NP had said [those words] to me 30 years ago, he could have destroyed me. He could have completely obliterated my self-confidence, my self-esteem, my sense of self-worth, my core identity . . . all those things could have been damaged. Perhaps irreparably." Had he said something so vile, hateful and hate-filled, spiteful, and just plain cruel to me back when I was a young adult in college just learning to live independently and find my way in this world, he might have changed the course of my life. His label, so gleefully flung at me, could easily have sidetracked or derailed my progression into adulthood and fundamental self-concept.
Matthew 5:22(b) puts it more succinctly and directly: "[T]he simple moral fact is that words kill."
In this instance, NP's words did not kill my hopeful spirit, self-esteem, belief in the Divine or desire to continue and expand my spiritual journey! But with his words, the NP did commit murder. He killed my lifelong relationship with the Lutheran church, my desire to have any affiliation with any other institutional church, the ongoing casting of my pearls (time, talents, service) before swine (the ungrateful, unappreciative members of my former congregation), and my relationships with some of the members of that congregation.
Most importantly, he killed my old spiritual identity and self-concept. But like the mythical phoenix, a new being arose from the ashes of my former self. That new being is the one who created this blog and continues to evolve, day by day, through new discoveries, insights revealed, and life lessons learned (the hardest way, most times).
Christians know that evil can exist only when it is a means to a greater good. NP's conduct was but a means to an end utilized by the Holy Spirit to move my life forward along the path intended for me. Tremendous blessings came out of a very bad chapter in my life and I continue to be blessed each and every day as I listen to discern and am obedient to the Divine's calling and purpose for my life.
So where is the closure, you ask? Because based upon the above, this blog is obviously not closing down and my journey is far from over. I am, as I describe in the right sidebar, a "work in progress" and will continue to write about that.
No, the closure is in the fact that NP is leaving town and moving several states away. In fact, today is his last Sunday as the pastor of my former congregation. I need never again encounter him at the doctor's office or anywhere else. I will never again have to receive e-mails from or engage in conversation about him with well-meaning friends and relatives who are determined to share with mewhat goes on in that congregation. Those are indeed blessings.
He is going off to serve victimize another congregation and its members.
No, I hope that's not right. . .
I truly hope that he is going off to serve a congregation and its members, and bring the perfect, holy light of the Divine into his own and their lives. I wish him no ill will and hope his new congregation will be blessed by his presence.
NP has not lived up to Matthew 5:23-24 because he has not made "things right" with me and, I'm sure, has no intention of doing so. However, that is his baggage to carry with him past the city limits signs on his way out of town. Not mine. And it is up to him to figure out how to work that out with the Divine. It's not my issue. His Karma. I wish him luck with that.
Even though he has not asked for my forgiveness, he has received it because to let anger and resentment eat away at me would poison only me, no one else, and violate the Second Agreement ("Nothing other people do is because of you. It is because of themselves."), "Don't Take Anything Personally." I must live by Luke 6:37: "Forgive, and you will be forgiven."
There will be no further mention here of NP, his misconduct or the events that propelled my exit from the Lutheran Church. It's over. Done. History.
Today I celebrate the blessing known as "closure." Simple as that! My eyes are fixed on the far horizon where the future that the Divine has in store for me awaits.

Trackposted to Outside the Beltway, Perri Nelson's Website, The Virtuous Republic, Right Truth, Shadowscope, The Amboy Times, Leaning Straight Up, Pursuing Holiness, Here's looking at . . . me!, The HILL Chronicles, third world county, Right Celebrity, Woman Honor Thyself, Stageleft, , stikNstein… has no mercy, Pirate's Cove, The Right Nation, The Pink Flamingo, Dumb Ox Daily News, Blog @ MoreWhat.com, A Blog For All, DeMediacratic Nation, Maggie's Notebook, Adam's Blog, Webloggin, The Bullwinkle Blog, Cao's Blog, Phastidio.net, Colloquium, , Conservative Cat, Blue Collar Muse, Diary of the Mad Pigeon, Allie Is Wired, The Crazy Rants of Samantha Burns, The World According to Carl, Blue Star Chronicles, Gulf Coast Hurricane Tracker, CORSARI D'ITALIA, Gone Hollywood, and The Yankee Sailor, thanks to Linkfest Haven Deluxe.